Fashion
Best Unisex Versace Sunglasses in 2022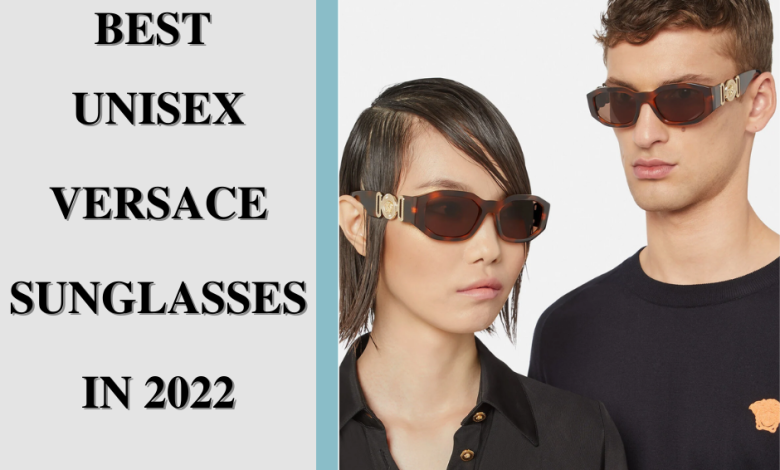 A renowned fashion partner, Versace boasts a wide range of sunglasses for men and women. For me, Versace sunglasses have always been on the top of the fashion accessory list.
And after the fashion firm added a range of shades to their collection, you too would love to widen your eyewear wardrobe with these best unisex Versace sunglasses in 2022.
Versace offers distinctively designed shades that offer boldness and style-statement to the possessor. Wearing one, you can instantly elevate and enhance your appearance, complement your outfit, and they can shield your eyes from harmful UV rays.
With the same boldness and stylish appeal, the fashion brand has brought you a pile of head-turning sunglasses for men and women. We have curated some of the best shades from their collection and presented the list of the best unisex Versace sunglasses for you to wear in 2022.
List Of Best Versace Unisex Sunglasses
Versace VE2150-Q Aviator Sunglasses
Designed to suit everybody, these Versace sunglasses are a piece of elegance for you. The shades have everything that makes you establish yourself as a style icon in your neighborhood or friend circle.
Its oversized temple handles and bridge are adorned with the Versace-celebrated logo of Medusa – a Greek mythological figure. The Medusa face is carved on Golden metal accompanied by a beautiful design and studded on a black background, further bringing it forward.
Because the glasses spark elegance and sophistication, they are perfect for wearing formal office suits. Put on these Versace shades when you are going for your out of the office meetings and conferences.
Versace-VE2210 Round Frame Sunglasses
A perfect outing partner, these round-framed Versace sunglasses can add that sense of style to your appearance. The glasses have an overall black structure with Versace imprinted on temples and a bridge.
These retro-chic sunglasses have a thin top bar that offers an aesthetic appearance. The slim rims encircling round black glasses perfectly complements the heart-shaped and square faces.
Allow these Versace shades to elevate your appearance by wearing them on outings and long drives. These glasses make an exceptional pair with ripped blue or black jeans and a red and black checked shirt. 
Versace-VE2236 Golden-Rim Aviators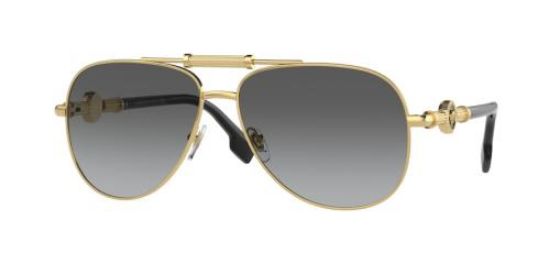 Aviators are never out of fashion. They will always be in trend with new and elevated styles. And Versace is here to offer a sophisticated and uplifted fashionable look to you with its latest collection of sunglasses containing these elegant aviators.
These Aviators come with a sturdy Monel frame coated in a shiny gold finish. The rims enclose the gradient glasses and get connected with a golden upper bar, crafted with horizontally carved stripes.
Being unisex, these Versace sunglasses for men and women suits all genders and provide stylishness. To bring all the sophistication out of these glasses, pair these shades with formal party wear and office vacation outfits.
Versace-VE4359 Shades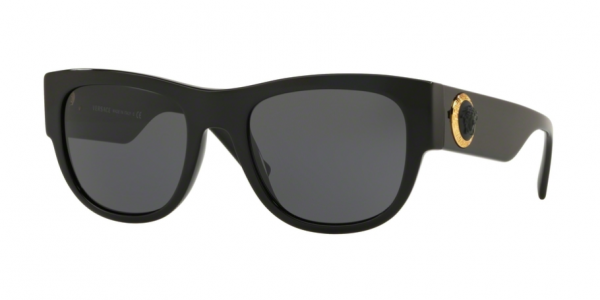 If you want to combine sophistication with funkiness, the glasses are here for you. These ultra-modern oversized Versace sunglasses suit men and women. Highly sought-after party wear, oversized black frames are on-trend. And Versace has successfully crafted something for this trend.
Oversized sunglasses are generally consider a heavy and slight hassle to keep on your nose. But Versace has eliminated this inconvenience with these Acetate made lightweight glasses. Although, its stylishness is not lessened at all.
The glasses have a black Medusa face carved on temples, encircled by a golden outline, that is also further carved with elegant design. The overall design and appearance make these glasses perfect for everyday wear.
Versace-VE4401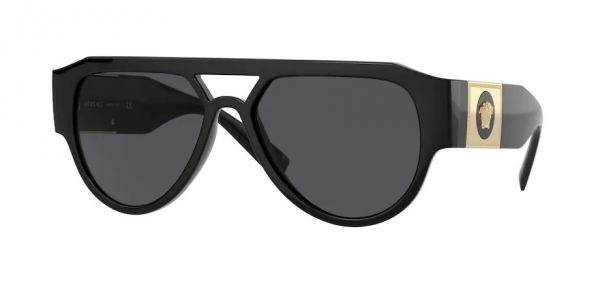 Another oversized masterpiece from the collection, these Versace shades do not need a description depicting how fashionable they are. I mean, come on, is not it self-starting its fashion-forwardness and style? 
But the glasses do not offer just a style statement to your look. It also protects your eyes from intense sunny rays by reflecting the light and reducing the light passing through lenses. So, perfect for your summer beach vacations.
Versace-VE4412
After reviewing all the collection of Versace sunglasses options, the one thing we concluded is if you want to go for current-trending oversized shades, there could not be a better option than Versace shades.
I mean, look at this gem. Isn't it extraordinarily modern and stylish? It appears like fashionableness is oozing out of this bad boy. If you are looking for perfect Versace unisex sunglasses, your search should end here.
Where to buy Versace Unisex Sunglasses online in South Africa?
Versace is no unknown fashion brand to fashionistas. So, its eyewear is widely available in the markets of South Africa. But physical stores might lack all of the glasses included in this, plus others of the collection. Globaleyes can be a perfect place to buy Versace unisex sunglasses online in South Africa.
Also Read : Discover the latest tom ford designer Sunglasses for women