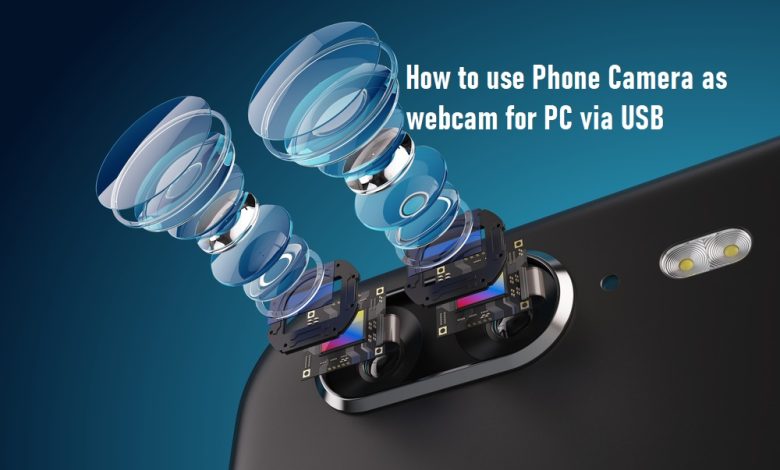 It is a smart world we live in, and everyone is connected to the world of internet in one way or the other. You can perform all your tasks along with the freedom to attend online classes or meetings from the comfort of your home on your PC. But if you want to make videocalls with your loved ones, attend online meetings, or online classes, the one thing which is very important to have in your computer setup is a webcam.  
But what if your computer or laptop does not have a webcam or it provides you low-quality? Don't worry because there is one more thing which you can do about it and that is to use a phone as your PC webcam. As all the smartphones now are equipped with killer cameras, so you won't need to spend extra bucks on a separate webcam. You can simply connect your How to use Phone Camera as webcam for PC via USB via USB and use it as a webcam. So, we are going to be telling you guys, how you can attach your phone to your PC and use it as a webcam. Stick around and find out.  
What Will You Need?
Before we get into the method and ways to connect your phone as a webcam through USB, let us talk a little about what would you be needing for this procedure.  
A Smartphone (Obviously)
The first thing you need is a smartphone to do this, but not just any smartphone you should pick one which is Android 5 or above so it can handle the webcam apps which you will be using. You should also pick the best battery life phone because connecting your phone as a webcam will consume a lot of battery, and if your phone is not able to give you that then you cannot use it for a longer period of time. Plus, the camera should also be good so you can get decent picture quality as you are making a videocall. 
USB Cable
The next thing you need is a USB cable which is compatible with your phone, so you can connect it with your PC the right way. Even though you can make a connection wirelessly as well, but a USB connection is much better. It will give you good speed, no interruptions and lag free quality. Connecting wirelessly can let you face some interruptions in your connection.
Webcam App on Both your Computer and Phone
In order to use your phone as a webcam you will be needing a webcam app as well. There are a number of webcam apps online and you need to pick the best one which can provide you the desired results. We saved you from the hassle of looking around and picked "Iriun Webcam for desktop PC and Mac", which is a good app, and it is also free. 
A Stand or Tripod
When you are making videocalls or attending online meetings you cannot just hold the Phone Camera as webcam for PC via USB in your hand all the time. You need to have a stand or a tripod so you can place your phone on it and set it at a perfect angle. You can find a tripod or a mobile stand easily in the market and if you don't want to buy it then you can also make it yourself. And something to safely hold your phone while you are using it as a webcam. 
Using the Phone as Webcam Via USB
Now let us see how you can use your phone as a webcam through USB with your computer or laptops.  
Enable USB Debugging
Best Baby Strollers: The first thing you need to do is enable USB debugging on your mobile which will let your phone act as a webcam when you connect it. Go to the settings of your phone and tap on About Phone option. When you scroll down you will find "Build Number" option, you need to tap on it 7 times. It will ask you for password or patter or even fingerprint authentication, just provide it accordingly and it will unlock Developer Option Setting. Go back, find the Developer Option and tap on it. Once you enter Developer Option setting you will find USB Debugging option turn it on and you are good to go. 
Download the Webcam App
The next step is to download the webcam app on your computer as well as on your phone, which you want to use as a webcam. You can find "Iriun Webcam for PC and Mac" on Play Store and APP Store as well. Install it on your phone and computer then you will be able to use your phone as a webcam. 
Get Started
Now when you have enabled the USB debugging and downloaded the app, you just need to connect USB data cable with your phone and your computer. Turn on the app and you will be able to use your phone's camera as a webcam in a carefree manner. You can easily use your phone's camera but there are some instances when Zoom will not recognize your phone's camera, as it will only recognize a built-in camera of your laptop. But don't worry you can go to the Zoom settings and select your phone's camera manually. It will get the job done.  
Final Word
– Use Phone Camera as webcam for PC via USB
Well, there you have it this was the article, and we hope it covered everything you needed to know. This is a really easy method, and it works every time without any hiccups. There are many more apps if you want to use them then you can download the one which seems right to you. But make sure to charge your phone's battery to 100 % before you use it as a webcam, because you will never want your phone to run out of battery while you are in the middle of an important Zoom meeting. If you are looking to buy the best battery life phone, then we suggest you visit OPPO Store and choose from a wide collection of great smartphones.